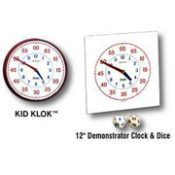 Customer Testimonial
"We have used Franklin Instruments and their clocks for many years for our K-12 Market.

They have incredible service and their products are second to none.

The response time is very fast and has made our customer dealings so much easier.

I highly recommend Franklin Clocks!"
- Greg Alavezos EKC Enterprises, Inc.
For a quote please email us at sales@franklinclock.com or give us a call at
800-321-2353
KID KLOK – Educational Clock
$

36.25
Dr. Massaro's Classroom Program included FREE with each KID KLOK™ wall clock and 12″ Demonstrator Clock
Helps Children Learn To Tell Time
Includes Classroom Training Program
Designed by a Doctor of Psychology
Registered U.S. Patent
12 inch diameter battery powered quartz wall clock. Available with Red or White Case
Presenting KID KLOK™ — the easy to read educational clock and training accessories developed by Dominic W. Massaro, Ph.D. Dr. Massaro, a professor and expert in cognitive psychology at the University of California, Santa Cruz, applied both psychological and ergonomic principles to improve the traditional clock dial.
His unique design reduces the confusion and frustration young students experience while being taught analog time. KID KLOK™ segregates the hour and minute numerals and creates a simple visual association to the hands through size and color.
Dr. Massaro's own classroom program explains how KID KLOK™ Demonstrator Clocks and color coordinated KID KLOK™ Training Dice are used to create attention getting, time learning games.